I'm  honored to announce that I'll will be one of the speakers at the European Wedding Congress in The Netherlands March 18-19, 2014 at the gorgeous castle Kasteel de Hooge Vuursche.  Along with Vanessa from Alchemy Fine Events, Vanessa & Rob and Jana Williams, we will be speaking to European wedding professionals looking to improve and grow their skills, talk about specializing, communication and building unique relationships in the industry. Whether you are photographer, florist, designer, planner, our panel of speakers will be able to give you valuable advice as a wedding professional.
Day one will consist of lectures given by each of the panel members followed by Day Two which offers full day hands on workshops with your choice of wedding industry leader.
The historic and stunning Kasteel…

The Details…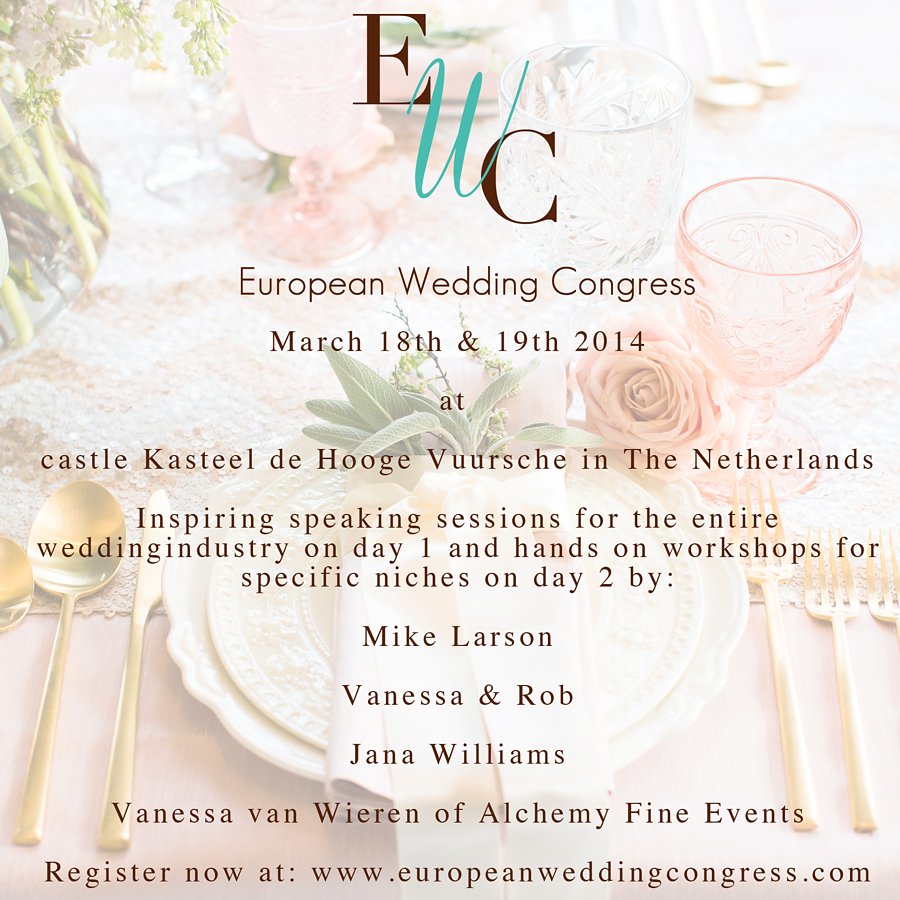 The Speakers…
Day 2 will be workshops from each of the speakers and you get to choose one to attend.
Mike Larson will speak about on Day One…
Specializing and finding/succeeding in a niche-As the wedding industry grows there are many talented artists and businesses entering the market.  We need to continue to refine ourselves, and be unique.  Specializing is hard, yet one incredible way to stand out, and rise above the crowd.  We'll talk about the reality of generalizing, and the reasons to specializing.  The direction you choose will determine how you run your business.  Either way, being consistent in one or the other will increase your profitability and simplicity.  Then we'll map out the benefits and outcomes of being a specialist in this any part of the wedding industry. (recommended read to prepare for this class is "22 immutable laws of marketing" by Jack Trout)
What Mike will work with students on for Day Two Workshop…
MIKE LARSON, WORKSHOP FOR PHOTOGRAPHERS:
This workshops consists of a morning part and afternoon part. You can either book just the morning (classroom section) or book the full day which will include the shooting section in the afternoon.
Styling your work so it gets into print! Classroom – morning session.
Our work in Print:
We all want our work to get into print, which is the most honor for what we produce.  I've always printed my work, and created my own printed material from shoots I do.  This has changed the way I shoot so that my work fits better into print media.  We will talk about the effects of just shooting for digital content vs print content, and how to change how we shoot so that we can get our work in print!
A Stylists Perspective:
The most successful photographers are also stylists in that they see things from an overview & a detailed perspective.  We will discuss about how to talk to our clients and the vendors about the important details, the lighting and setup that can make or break the entire shoot getting into print.  We need to notice, and gain the experience over time so we become an authority others seek out.   We can be more helpful to discuss and bring value to each shoot or wedding from this perspective.  I will go over how to get there as a professional and implement all these techniques with our clients planning a wedding so that by the wedding day, we have all the odds in our favor to capture the most beautiful wedding possible!
Styling a shoot:
We will talk about how to set up a shoot and discuss the elements needed, as well as how to go about setting these up so that you can have the tools and ability to produce these on your own back home in the most effective and productive way.
Vanessa from Alchemy events will be speaking about:
"I love working with Vanessa, she is talented and amazing at what she does.  Her hour and 15 minute lecture will include the below speaking topics as well as photos of her work explaining her speaking points, including success's and failures of her own work. Whether you are an event designer, planner, photographer or florist, these skills and tips will help improve your level of design and styling as well as the creative process and how you pull inspiration from your clients as well as your surrounding environment. You will be able to improve your clients events and weddings as well as your own portfolio work from a creative or non-creative role..
She will be talking about connecting and communicating with clients, how she goes about the design process to fit her clients perfectly, and teaching how to draw on their own style to be creative and innovate so they become recognized for their talents.  She will discuss how she plans from the booking process up to the wedding itself.  I highly recommend planners to attend and get inspired!   Her second day 8 hour workshop will fill up fast and be incredible."
Vanessa & Rob will inspire those who are passionate about cinematography.  Their work is stunning!
"Learn how to reach potential clients and expand your online presence by using video in your business. From DIY instructional videos to vlogs that recap your work at a recent wedding, creating simple, professional short videos will help you build your brand and connect with your clients and target market on a whole new level. From the type of equipment you need to understanding how to make yourself look good on camera, Vanessa and Rob will show you just how easy it can be to start using video to differentiate yourself and create a fun, new marketing strategy."
Last year the talented Jill LaFleur, Lawrence Chan and Justin & Mary Marantz inspired everyone.  Check out their videos from last year on the EWC website.
For more information on The European Wedding Congress visit the site here! We look forward to seeing you there!!